Dreyer & Reinbold Subaru's Recycling Efforts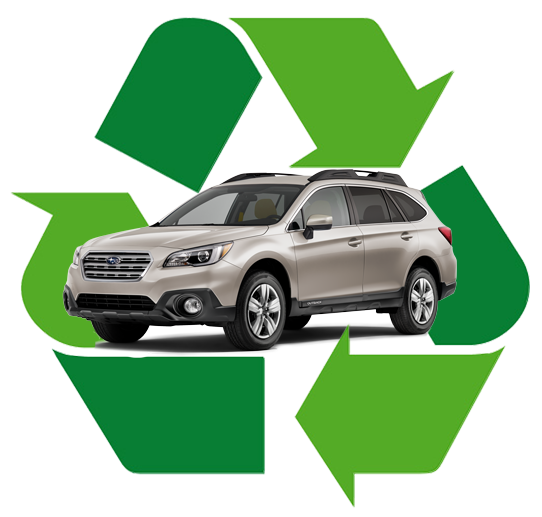 Have you ever wondered about what happens to the fluids and parts that come out of your Subaru when you bring it in for maintenance service? I, like most of you, don't give a thought to what comes out of my car, or off of it during it's service visit. I just care that it runs well and functions properly when I leave.
However, we all have a responsibility to protect the environment, and at Dreyer & Reinbold Subaru we take this responsibility seriously. Most of us assume that fluids like:
engine oil
transmission fluid
gasoline
are recycled. That's correct, and in addition to these common fluids, we recycle coolant, diesel fluid, power steering fluid, oil filters, and batteries. If disposed of improperly, these items have a very negative effect on landfills, and therefore, the environment.
Over the last few years, we have started to recycle metal parts as well, including:
brake rotors
wheels
suspension parts
aluminum water pumps
thermostats
We recycle so much that the state of Indiana presented us with an award for our environmental consciousness. 
This leads me to congratulate you on your environmental awareness. By driving a Subaru you are contributing to making the earth a better place to live. Not only do our cars get great fuel economy, they are designed to be environmentally friendly at the end of their lives. Did you know that just over 90% of the car you are driving can be recycled at the end of its service life? We think of luxury and performance as being priorities for Subaru, yet few of us think about how environmentally concerned our favorite car manufacturer is.
Sustainability is a key element in these incredible cars. Subaru has gone to great lengths to incorporate the use of lightweight materials in their construction as well as interior materials made from recycled and natural materials. Please stop by and see our amazing lineup of Subarus, and let one of our client advisers show you what I'm referring to. You'll be impressed.
In the meantime, go out and enjoy your Subaru, knowing that you are doing your part to "save the planet" for future generations.