So what adventures are awaiting you in your new Subaru?  The sky's the limit, but here's a few places to get you started.  Here is a top-ten list of Indiana state parks that all offer you a chance for some great family fun in your new Subaru.  Be sure to share your adventures with us on Facebook!
---
| | | |
| --- | --- | --- |
| 1.  Brown County State Park | | |
---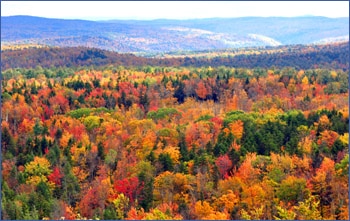 Nicknamed the "Little Smokies" because of the area's resemblance to the Great Smoky Mountains, Brown County encompasses nearly 16,000 acres of rugged hills, ridges and fog-shrouded ravines. Glaciers from the most recent ice ages stopped short of the "hills o' Brown," but their meltwaters helped create the narrow ridges, steep slopes and deep gullies of Brown County State Park. Indiana's largest park is a traditional fall color hot spot, with nearly 20 miles of tree-lined roads and many scenic vistas overlooking miles of uninterrupted forestland.  The surrounding county and nearby Indiana town of Nashville are famous for their unique shopping, dining, arts and crafts, history, entertainment, and outdoor adventure opportunities.
Activities:

Nature Center

Shelters

Bridle Trails

Picnic Tables

Fishing / Ice Fishing

Hiking Trails

Mountain Bike Trails

Tennis Courts


Open Fields

Playground Equipment

Swimming / Pool

Camping
---
---
| | | |
| --- | --- | --- |
| 2.  Indiana Dunes State Park | | |
---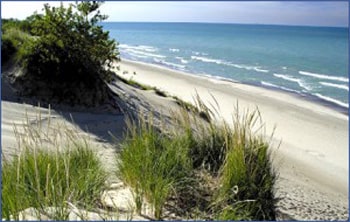 Indiana Dunes consists of 2,182 acres of primitive, beautiful, historic and unique Hoosier landscape. It lies at the north end of State Road 49 in Porter County, and includes more than three miles of beautiful beach along Lake Michigan's southern shore. In the early 1900s scientists, recreationists and nature enthusiasts, recognizing the value and potential of the Indiana dunes area, fought to have the region preserved. As a result, in 1925, the state park was established.  Large sand dunes, located beyond the entire shoreline, have taken thousands of years to form, and tower nearly 200 feet above Lake Michigan. A wide range of habitats and plant species are found in the park, with vegetation stabilizing some of the sand. These habitats provide homes for many types of plants and animals. The lake also provides habitat for many aquatic species, as well as a constantly changing fishery.
Activities:

Nature Center

Picnicking/Shelters

Access to Calumet Trail

Cross-country Skiing

Hiking Trails

Fishing (Smelt Only)


Swimming / Beach

Birding

Camping
---
---
| | | |
| --- | --- | --- |
| 3.  Fort Harrison State Park | | |
---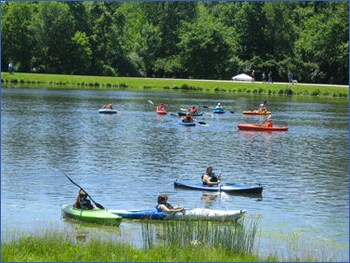 Fort Harrison is a state park for many seasons for many reasons. Patrons may enjoy visiting the park year round, especially in winter since Fort Harrison features one of the biggest sledding hills in the area. Spring is the season to walk with the woodland wildflowers in full bloom across the park. Summer is the perfect time for a canoe trip down Fall Creek, the major water feature that runs through the north side of Fort Harrison. Autumn brings warm, sunny days and breathtaking fall colors to this, the last forested corner left in Marion County.  At Fort Harrison, landscape and history blend together at this unique setting on the north-east side of Indianapolis. The 1,700-acre park features walking and jogging trails, picnic sites, fishing access to Fall Creek and two national historic districts. The former Citizen's Military Training Camp is preserved around the park office in what was once known as Camp Glenn.
Activities:

Dog Park

Recreation Buildings equipped with kitchenettes and restrooms

Nature Center/Interpretive Naturalist Services


Shelters

Picnicking

Hiking Trails / Multi-use Trail

Bicycle Trail

Fishing

Saddle Barn w/ horse trail rides, hay rides


Inn Restaurant

Ice Fishing

Sledding hill and cross-country skiing

Shelters (one shelter equipped with fireplace)
---
---
| | | |
| --- | --- | --- |
| 4.  Turkey Run State Park | | |
---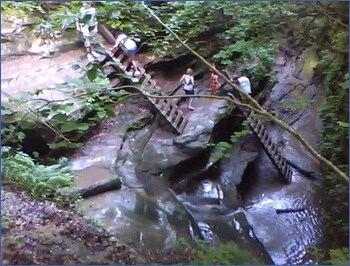 You'll marvel at the natural geologic wonders of this beautiful park as you hike along its famous trails. Nestled along State Road 47 southwest of Crawfordsville, the park offers the chance to explore deep, sandstone ravines, walk along stands of aged forests, and enjoy the scenic views along Sugar Creek.  Make sure to visit the Colonel Richard Lieber Cabin, which commemorates the contributions of the father of Indiana's state park system.  Turkey Run State Park is also located very close to Shades State Park which is a favorite for hikers and canoeists.  The beautiful sandstone cliffs overlooking Sugar Creek and numerous shady ravines provide the backdrop for your journey through this nature lover's paradise.  Also on the property is Pine Hills Nature Preserve, which affords spectacular topography for those willing to take a fairly long hike.
Activities:

Picnic areas w/shelters

Interpretive Naturalist Services

Nature Center / Planetarium

Cabins, Inn Operated


Rental - Cultural Arts Programs

Fishing

Hiking Trails

Turkey Run Inn Accommodations  w/ Indoor Pool

Inn Restaurant

Meeting & Conference Facilities

Playgrounds

Saddle Barn with escorted rides

Tennis & Other Games

Swimming / Pool

Camping
---
---
| | | |
| --- | --- | --- |
| 5.  Pokagon State Park | | |
---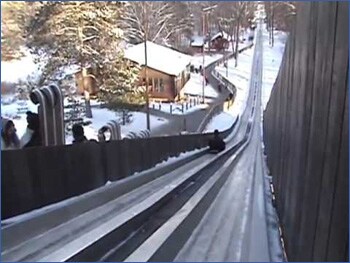 Pokagon State Park is located near Angola, just off I-69. The park was originally called Lake James State Park when proposed to be the fifth Indiana State Park in 1925. The name was changed to Pokagon State Park to acknowledge the rich Native American heritage of the state and region. Leopold and Simon Pokagon were father and son and the last two most notable leaders of the Potawatomi. The park's Potawatomi Inn takes its name from these Native Americans, who made their home in the area. The inn, with its up-north fishing-lodge theme, is one of the Midwest's most popular resorts and conference centers.  Natural lakes created by glaciers that melted 10,000 to 15,000 years ago, highlight Steuben County, which has more lakes than any other Indiana county. The park is framed by Lake James and Snow Lake, which offer abundant opportunities for boating, swimming, fishing and scenic sunsets.
Activities:

Cross Country Skiing

Nature Center / Interpretive Naturalist Services

Picnicking / Shelters

Meeting & Conference Facilities


Picnicking

Playground Equipment

Rental - Paddleboat, Rowboat and Pontoon

Rental - Recreation Building

Saddle Barn with escorted rides

Sand Volley Ball Court

Swimming / Beach

Toboggan Run (seasonal)

Camping
---
---
| | | |
| --- | --- | --- |
| 6.  Potato Creek State Park | | |
---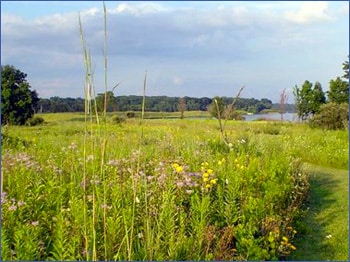 Potato Creek is in north-central Indiana about 12 miles southwest of South Bend. The park features a wide array of activities and facilities for year-round enjoyment. Making reservations is advisable to enjoy some of the facilities at this very popular park.  A variety of natural habitats await, including the 327-acre Worster Lake, old fields, mature woodlands, restored prairies and diverse wetlands. Each offers unique opportunities for plant and wildlife observation.  Native peoples used the area for hunting and fishing.  Enjoy a family cabin with your loved ones in an Indiana State Park this year. The cabins offer privacy and comfort with bedrooms, living areas, kitchens and modern bathroom facilities.  Paddleboats, canoes, kayaks, rowboats and trolling motors can be rented during the summer months.  Explore the prairie maze from mid-September through November.
Activities:

Nature Center/Interpretive Services

Picnicking/Shelters

Bicycle Trail / 3.2 miles

Boat Launch Ramps / 2

Boat Motor / Electric trolling only

Bridle Trails

Cabins / 17

Cross-Country Skiing

Fishing / Ice Fishing / Fishing Pier

Fish Cleaning Station

Hiking Trails

Mountain Bike Trail / 6.6 miles

Playground Equipment

Rentals - Bicycle, Canoe, Paddleboat, Rowboat, Kayak, Trolling Motors, Recreation Building

Swimming / Beach

Tubing Hill

Wildlife Observation Area

Camping
---
---
| | | |
| --- | --- | --- |
| 7.  McCormick's Creek State Park | | |
---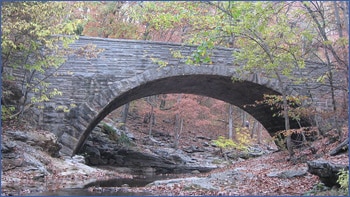 Explore the spectacular limestone canyon, flowing creek, and scenic waterfalls that highlight Indiana's first state park. Hike trails featuring diverse forest trees, spicebush, and native wildflowers, including a trail through Wolf Cave Nature Preserve and an accessible trail at the recently renovated nature center. Experience history as you climb the fire tower, use shelter houses or cross the stone arch bridge created by the Civilian Conservation Corps, or examine the historic Statehouse Quarry near White River, which furnished limestone used for the Indianapolis Statehouse. Relax in the lobby of Canyon Inn, open to all park visitors, or watch birds from the dining room porch. Catch cultural events such as concerts in the park amphitheater or attend the several special events hosted annually at the park. McCormick's Creek State Park offers active enjoyment through all seasons of the year.
Activities:

Nature Center / Interpretive Naturalist Services

Picnicking/Shelters

Hiking Trails

Saddle Barn & trail rides

Tennis Courts


Recreation Buildings

Recreation Center

Swimming / Pool

Camping
---
---
| | | |
| --- | --- | --- |
| 8.  Spring Mill State Park | | |
---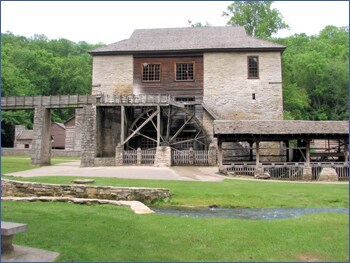 Spring Mill State Park offers a powerful illustration of the link between the natural and cultural worlds. The water flowing from several cave springs led to the founding of an industrial village in the early 1800s. Pioneer entrepreneurs took advantage of a constant water source that never froze, using it to power several gristmills, a wool mill, a saw mill, and a distillery. In turn, pioneer settlers shaped the landscape around the village, clearing land for agriculture and timber.  The park today continues to illustrate how nature shapes us and how we shape our environment. A parcel of virgin timber sits in contrast to regenerated forest, a man-made lake struggles to survive against the in-flow of silt from cave-fed systems, and the native flora and fauna face challenges from man's introduction of new species.
Activities:

Pioneer Village

Grissom Memorial

Nature Center

Nature Nook

Twin Caves Boat Tour

Schools and Groups

Hiking & Biking


Lodging & Dining

Shelters & Picnic Areas

Public Swimming Pool

Campstore / Hayrides / Bike Rental

Nature Preserves


Donaldson, Bronson, and Hamer Caves

Camping
---
---
| | | |
| --- | --- | --- |
| 9. Mounds State Park | | |
---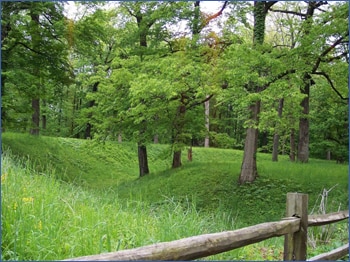 Mounds State Park, located off I-69 east of Anderson, features 10 unique earthworks built by prehistoric Indians known as the Adena-Hopewell people. The largest earthwork, the Great Mound, is believed to have been constructed around 160 B.C. Archaeological surveys indicate the mounds were used as gathering places for religious ceremonies, from where astronomical alignments could be viewed.  The White River was a trade and transportation route for the mound builders. Using dugout canoes, items were brought to the region. Copper from the north, shells from the Gulf, obsidian from the west and mica from the east have been found at the mounds.  Be sure to visit our Nature Center, which includes a wildlife viewing room, animal displays, interactive games and more. Hours are 9 am to 4 pm daily. Naturalist-led hikes and interpretive programs are offered every weekend throughout the year.
Activities:

Visitor Center and Gift Shop/Interpretive Naturalist Services

Picnicking/Shelters

Hiking Trails

Fishing (White River)

Rental - Recreation Building

Camp Store

Swimming / Pool

Camping
---
---
| | | |
| --- | --- | --- |
| 10.  Clifty Falls State Park | | |
---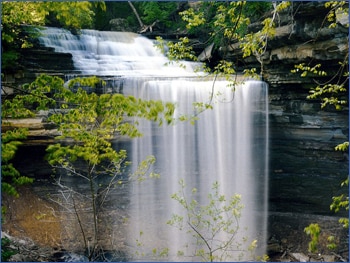 Clifty Falls State Park is located near Madison with entrances on state roads 56 and 62. The park's waterfalls change moods with the weather and the seasons and can range from roaring plunges to delicate bridal-veil mists to gleaming frozen titans. Winter and spring visits reveal them at their best. The rugged splendor of Clifty Canyon offers exciting year-round hiking and scenery.  Clifty Creek's stony bed is littered with fossil remnants telling of a long vanished marine ecosystem that teemed with life that included ancient corals, ancestral squids, brachiopods and more. Fossil collecting within Clifty Falls State Park is prohibited but nearby collecting locations are readily accessible.  Plan a park visit during one of the community's special events, such as the July Regatta hydroplane boat race or the Madison Chautauqua Festival of Art in late September.
Activities:

Nature Center/Interpretive Naturalist Services

Shelters

Picnicking

Hiking Trails

Tennis & Other Games

Meeting & Conference Facilities

Clifty Inn and Restaurant

Swimming Pool / Waterslide

Camping
---
All park information is courtesy of Indiana Department of Natural Resources.  Please check their website for complete information regarding reservations and regulations.